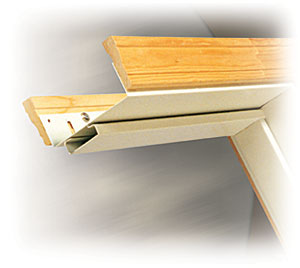 Multi-Family Adjusta-Fit® 2 Steel Door Frames
Ideal for interior and exterior applications, including corridor openings and outside unit entries.
Great for applications allowing the use of decorative casings and molding trim.
Commercial-grade 18-gauge base frame.
Minimum 22-gauge closure with 1" of adjustability, suitable for walls from 4" to 9 1/2" deep.
All steel door frames are fabricated from galvanized steel and factory coated paint finish for rust inhibition and superior paint adhesion.
All base frames are kerfed to receive foam weatherstrip for air infiltration resistance.
Pressure-fit weatherstrip is easily removable for field painting.
Standard 4 7/8" ANSI 115.1, or 2 3/4" T-Lip strike prep option.
Steel door frames are prepared for 4" hinges.
Installable into wood and steel stud walls, as well as masonry construction.
All-aluminum thermally broken threshold for added durability.
Public access systems also available.
Note: For barrier-free threshold, deduct 5/8″ from rough opening height.