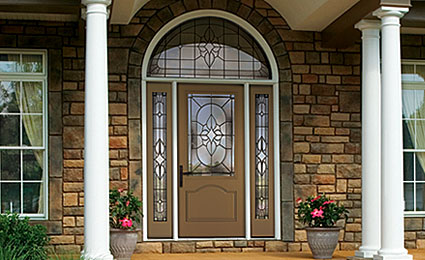 Introducing the latest in great entrances with the new Classic-Craft® Canvas Collection™ – the first premium, smooth fiberglass door to carry the Therma-Tru brand name. The collection is designed with all of the beauty and performance of the Classic-Craft line with a smooth, paintable surface for ease of adapting to home interior and exterior finishes.
The doors feature architecturally correct facets, including wide center panels and rich embossment details that rival high-end custom wood doors, as well as heavy-gauge steel doors. And they deliver all the benefits of a premium fiberglass door system including security, durability and energy efficiency.
Door Styles
Sidelite Styles
Decorative Glass Options
To learn more about decorative glass options, visit ThermaTru official website.
Privacy Glass Options
To learn more about privacy glass options, visit ThermaTru official website.
Construction Details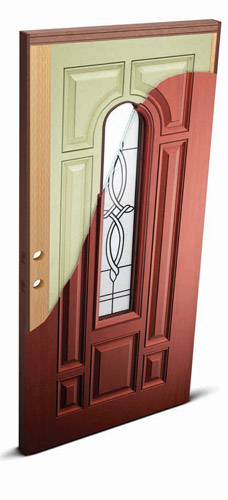 Enhanced Weather Resistance
No more worries about rotting, warping or twisting.
Classic-Craft premium entryways are tested and designed to resist extreme weather conditions and the damaging effects of moisture. Both the
top and bottom of the door are protected by composite rails for a longer-lasting entryway.
Solid Security
Classic-Craft premium entryways feel solid and close with authority. A 4-1⁄8″ wide piece of laminated strand lumber (LSL) wood runs from the top to the bottom of the locking side of the door to add mass and rigidity, giving the door weight and a natural wood feel.
Excellent Durability
Built to stand up to the elements and years of wear, Classic-Craft's fiberglass skins are thicker than standard fiberglass doors to provide added durability and better long-term performance.
Higher R-Values
Classic-Craft premium entryways contribute to an energy-efficient home. A polyurethane foam core provides up to four times the insulating R-Value of
wood.*
Edge-to-Edge Moisture Protection
Stop moisture at every turn – and along every edge. Classic-Craft premium entryways havecontinuous hardwood edges that resist moisture penetration.