Installing new windows and doors can instantly improve the appearance, functionality, energy efficiency and ultimately the value of your home. Before making a decision it is a good idea to understand your requirements so you can focus on getting what you want and need as opposed to what someone wants to sell to you.
WINDOW STYLES
Different window types offer different views and ventilation characteristics and can alter your home's appearance. Style may also have an impact on price. Consider your design, function and performance needs and choose the appropriate style. Common windows styles include:
DOUBLE HUNG OR SINGLE HUNG
A traditional style where two sashes installed in a common frame slide vertically up or down. A Single Hung style where only the lower sash slides up; the top sash is fixed into position and does not move.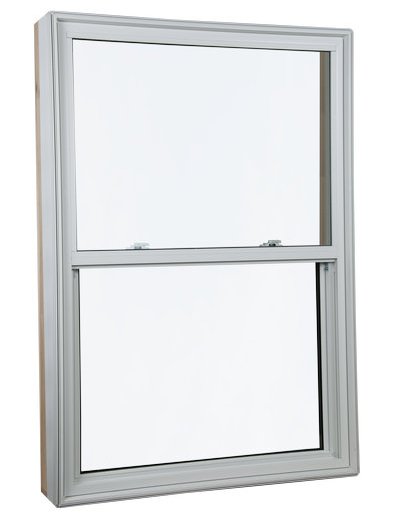 CASEMENT
Sash is hinged to open outward from the side like a door, usually with a crank handle and secured by locks mounted on the side jamb.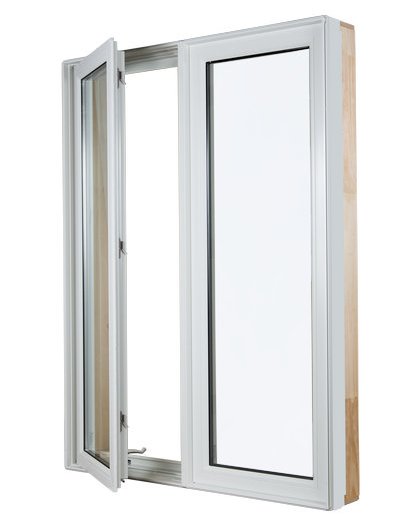 AWNING
Similar to the casement but hinged to open out from the bottom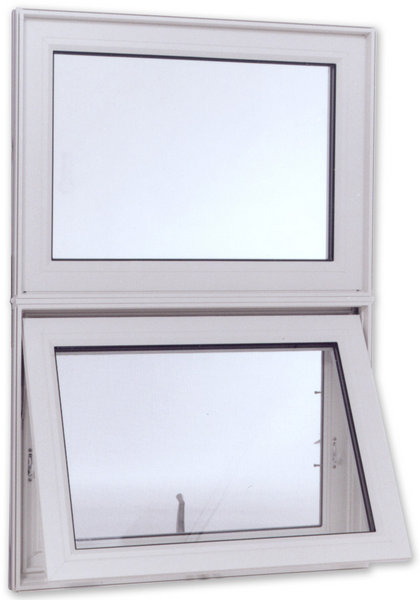 SLIDING OR GLIDING
Similar to a hung window but with the sashes sliding horizontally left or right.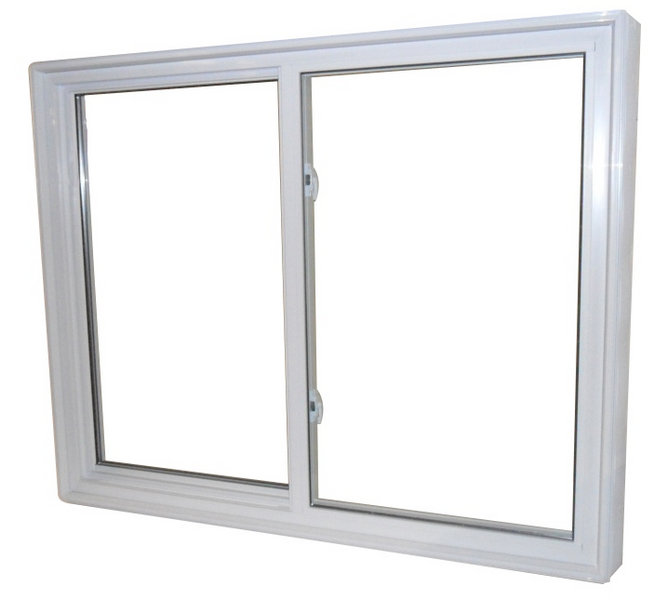 PICTURE WINDOW
A window that is stationary and does not open. They are usually larger than operating windows and may or may not include a sash. Picture windows without a sash are often called "direct-set" as the glass is set directly into the frame.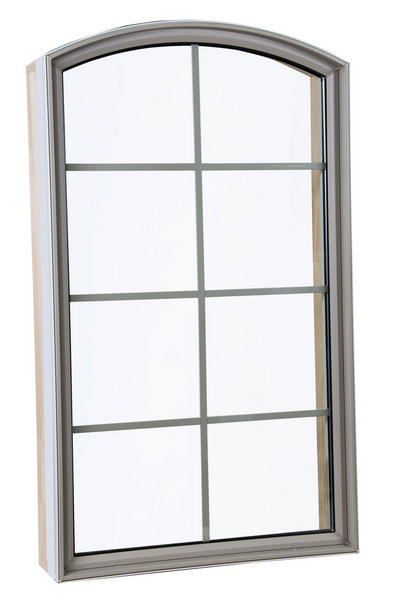 GLASS
Glass is a major part of any window and can make a big difference in thermal performance, comfort and safety. Modern insulating glass is offered in a number of different specifications that each offer specific performance benefits.
INSULATING GLASS
Modern high performance glass systems are comprised of 2 or 3 separate panes of glass connected by a perimeter spacer bar. These sealed units provide superior insulating compared to single pane glass.
LOW-E
High performance window and door glass includes a low-emissivity ( Low-E ) coating which is a microscopic layer of metallic particles that control the passage of radiant heat and light through the glass. Different types of Low-E coating options are available to maximize cold weather performance (allow solar heat in while keeping interior heat in), warm weather performance (reflecting solar heat away and preventing it from entering while keeping cool air in) as well as a blend of both for year round performance and comfort.
SPACER
The bars that separate the panes of glass in an insulating unit. Low conductivity spacers employ materials and design that minimize heat and cold transfer around the perimeter of the glass while maintaining a long term thermal seal.
GAS FILLING
The use of a safe inert gas such as Argon in the space between the panes of glass to slow down heat and cold passing through the unit and further improve insulating value.
TEMPERED GLASS
Heat strengthened safety glass for applications where potential glass breakage of regular glass could cause personal injury.  Tempered glass although stronger than regular annealed glass can still break but will shatter into small less harmful pebble size pieces and not large shards.  Tempered glass is used exclusively in all Dashwood Entry Door and Patio Door glazing.
LAMINATED GLASS
Two layers of glass with an interlayer of PVB ( Poly Vinyl Butyral ) sandwiched between.  If laminated glass breaks, the vinyl interlayer remains intact and the glass fragments adhere to it.  The interlayer prevents objects from passing through just like typical windshield glass in an automobile.  Laminated glass has the added benefit of providing excellent sound dampening in high noise areas.
It is important to consider the glass manufacturer when comparing different window brands.  Some companies' actually make their own insulating glass for reasons usually associated with cost while others like Dashwood use insulating glass units made by companies that specialize in its development and production like Cardinal Glass Industries.
WINDOW FRAMES and SASH MATERIAL TYPES
VINYL
Vinyl is the most popular material for windows due to its durability, superior weathering properties and affordability compared to other materials. Vinyl is fully maintenance free and does not require painting. With proper design vinyl components offer excellent structural and insulating properties. Vinyl is also fully recyclable.
Dashwood manufactures vinyl windows for replacement with a wide variety of design and performance options.
CLAD WOOD
Real wood offers traditional style and beauty along with strength and natural insulating value. The addition of durable maintenance-free exterior cladding protects the wood from deterioration to provide the best of both worlds.
Dashwood manufactures windows with durable vinyl exteriors and a selection of real wood interior options to suit most replacement requirements.
INSTALLATION METHODS
When it comes to replacing existing windows there are generally two methods to consider.
FULL FRAME
This is where the old window is completely removed from the opening and a complete new window with frame is installed into the original wall or rough stud opening. This method removes all portions of the old windows and typically also requires the removal of original interior trim. In some cases the original trim can be re-used but in most situations it is also replaced. In a renovation where an addition to the home or building is involved, this will be the method of installation in the new areas.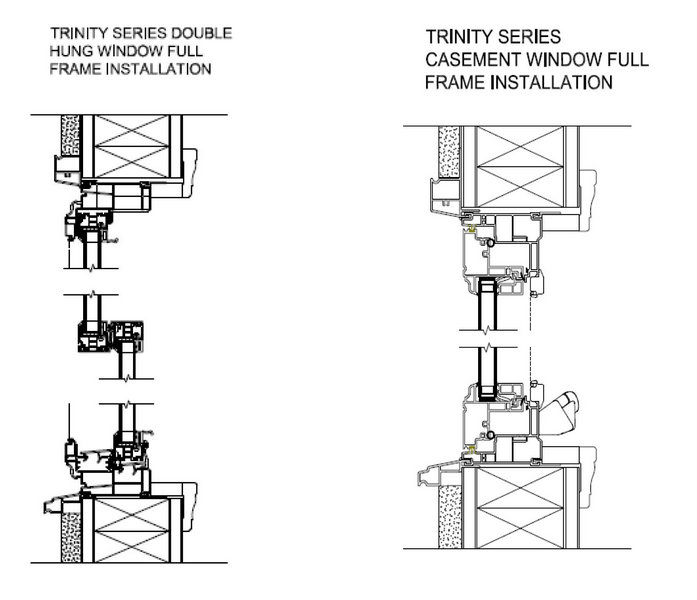 INSERT
In this situation the old window sashes are removed but the original window frame is retained in the wall. The new window unit is installed into the original window's frame resulting in a "window inside a window". The benefits are that, provided that the original window frames, typically made of wood, are in sound structural condition, there is little or no impact to the existing window trim or surrounding wall areas inside or out. Installation is also typically faster. The downside is that overall glass area is usually reduced as the new window has to be smaller in order fit inside the space of the original.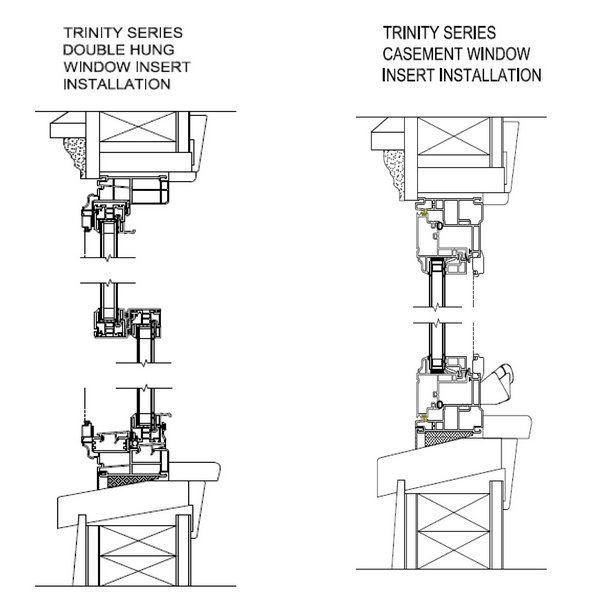 OTHER OPTIONS
Dashwood vinyl windows are designed for renovation or replacement applications with glass, colour and accessory options to suit any number of style and performance requirements. Complete your project with Dashwood entry doors, terrace doors and patio doors. Find out more about how our windows and doors can make your home better.